Thomas Wolf is the forester of the Lahnstein forest. He married Viktoria Wolf in 1985, with whom he had three children, Marlene von Lahnstein and Dana and Kim Wolf. Kim eventually turned out not to be his biological daughter, but rather the daughter of his employer, Ansgar von Lahnstein, with whom Viktoria had had a one-night-stand. Thomas could not believe that Viktoria had been lying to him for all those years, and decided to end their relationship.
After finding out about Kim, Ansgar tried to introduce her to his family, and also to get her to forget her old family, namely Thomas. He also tried getting rid of Thomas as an employee of the Lahnstein family. All this has put extreme pressure on Thomas, since Ansgar seems better than Thomas in anything that he does.
Family tree
Edit
Thomas Wolf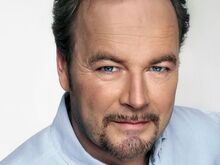 Till Demtrøder
3817 (08.04.2011) – 4594 (27.10.2014)
Ad blocker interference detected!
Wikia is a free-to-use site that makes money from advertising. We have a modified experience for viewers using ad blockers

Wikia is not accessible if you've made further modifications. Remove the custom ad blocker rule(s) and the page will load as expected.