Tanja von Lahnstein (née Wittkamp, formerly von Anstetten) is a businesswoman living in Königsbrunn in Düsseldorf. She is the wife of Sebastian von Lahnstein, with whom she has a child - Emma von Lahnstein. She was formerly married to Sebastian's cousin, Ansgar von Lahnstein with whom she had Hannes von Lahnstein. She is a member of the Lahnstein Board and has two personal assistants, Kim Wolf and Jessica Stiehl.
Tanja is the daughter of Walter and Annegret Wittkamp, both of which are dead. She has two siblings, one of whom is Thomas, who died at a young age because of his father, but the family blamed Tanja and so she had to go to a psychiatric hospital for two years. The other sibling is a sister, Meike, who is currently the only surviving close relative of Tanja. Ironically, Meike is currently in a psychiatric hospital. Tanja has also mentioned that she has an uncle.
Family tree
Edit
Tanja von Lahnstein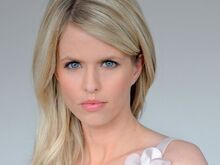 Miriam Lahnstein
109 (21.06.1995) - 177 (04.10.1995)


210 (24.11.1995) - 266 (15.02.1996)
318 (02.05.1996) - 601 (1997)          
682 (1997) - 830 (1998)
1500 (24.04.2001) - 1605 (05.10.2001)
2196 (16.04.2004) - 2470 (09.06.2005)
2653 (20.03.2006) - 2894 (30.03.2007)
3068 (12.12.2007) - 3525 (14.12.2009)


3588 (06.04.2010) - present                
Ad blocker interference detected!
Wikia is a free-to-use site that makes money from advertising. We have a modified experience for viewers using ad blockers

Wikia is not accessible if you've made further modifications. Remove the custom ad blocker rule(s) and the page will load as expected.