Sebastian von Lahnstein is a lawyer and the second eldest son of Ludwig von Lahnstein. He was married to Lydia Brandner before marrying Tanja von Lahnstein, whom he also has a daughter with, Emma von Lahnstein. During his marriage to Lydia, Sebastian also had a one-night-stand with Lydia's mother Katja Brandner, which resulted in a child, Christina Brandner, who was then raised by Lydia's father Matthias Brandner and his new wife Nathalie Brandner. In February 2012 Christina had gotten really sick, and after being disappointed by Tanja for not trusting him, he decided to go visit her daughter in Auckland for a while.
Biography
Edit
Early Life
Edit
After the death of Sebastian's parents, Adrian Degenhardt took care of him and his siblings. Sebastian was left to look after Helena, Tristan and Rebecca, as his older brother Hagen abandoned the family. Adrian paid for Sebastian's education, who then studied law at Harvard university.
Family tree
Edit
Sebastian von Lahnstein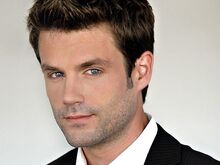 Sebastian Schlemmer
3487 (19.10.2009) - present
Joscha Kiefer
3056 (26.11.2007) - 3484 (13.10.2009)
Ad blocker interference detected!
Wikia is a free-to-use site that makes money from advertising. We have a modified experience for viewers using ad blockers

Wikia is not accessible if you've made further modifications. Remove the custom ad blocker rule(s) and the page will load as expected.