Gero von Sterneck

Biographical information
Gender
Male
Origin
Düsseldorf, Germany
Occupation
Doctor
Current residence
New York, USA

Gero von Sterneck is a doctor currently living in New York, USA. He is the son of Barbara von Sterneck and Roberto Fiorani and also has a sister, Kati von Sterneck. In 1995 he was engaged to Julia Mendes, but called off the wedding because he discovered his interest in men.
Family tree
Edit
Gero von Sterneck
Broder B. Hendrix
132 (24.07.1995) - 604 (1997)


905 (1999) - 998 (1999)


2383 (26.01.2005)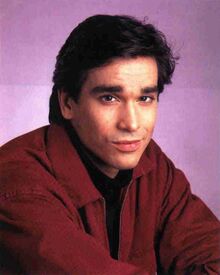 Manou Lubowski
1 (02.01.1995) - 128 (18.07.1995)
Ad blocker interference detected!
Wikia is a free-to-use site that makes money from advertising. We have a modified experience for viewers using ad blockers

Wikia is not accessible if you've made further modifications. Remove the custom ad blocker rule(s) and the page will load as expected.