Florian Brandner

Biographical information
Gender
Male
Origin
Düsseldorf, Germany
Spouse(s)
Isabell Brandner
[2003-present]
Occupation
Photographer
Current residence
Milan, Italy

Florian Brandner is the youngest son of Iris and Arno Brandner. He has an older sister, Susanne Brandner, and two half-siblings via his father, Jan Brandner and Julia Mendes. He is married to Isabell Brandner and lives with her in Milan, Italy, along with Isabell's biological daughter, Carolin Brandner, of whom he is a legal father.
Family tree
Edit
Florian Brandner
Alex Huber
1781 (12.07.2002) - 2137 (15.01.2004)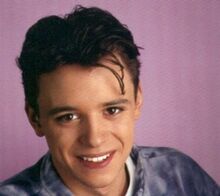 Frédéric A. Komp
1 (02.01.1995) - 365 (18.07.1996)


501 (1997) - 519 (1997)


819 (1998) - 904 (1998)
Ad blocker interference detected!
Wikia is a free-to-use site that makes money from advertising. We have a modified experience for viewers using ad blockers

Wikia is not accessible if you've made further modifications. Remove the custom ad blocker rule(s) and the page will load as expected.