Emilio Sanchez

Biographical information
Gender
Male
Birth
1991 or 1992
Origin
Caracas, Venezuela
Spouse(s)
Kim Wolf
(divorced) [2012-2015]
Occupation
Waiter in Schneiders
Current residence
Palma, Mallorca, Spain

Emilio Sanchez is a 19 year old man living in the Brandner apartment with Charlie Schneider. He came to Düsseldorf after being thrown out of the Youth Center in Palma, Mallorca. He is the best friend of Timo Mendes. The rest of his family live in Caracas, Venezuela.
Family tree
Edit
Emilio Sanchez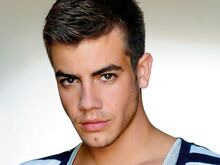 Florian Wünsche
3869 (28.06.2011) - present
Ad blocker interference detected!
Wikia is a free-to-use site that makes money from advertising. We have a modified experience for viewers using ad blockers

Wikia is not accessible if you've made further modifications. Remove the custom ad blocker rule(s) and the page will load as expected.