Charlotte "Charlie" Schneider is the owner of the Schneiders bistro in Düsseldorf. She lives in the Brandner apartment together with Arno Brandner. She is a good friend of Elisabeth von Lahnstein. Charlie is currently visiting Clarissa von Anstetten on Mallorca, but right now she went to Madrid for a short while.
Biography
Edit
Early lifeEdit
Not much is know about Charlie's early life. She was raised in Meppen, with two brothers, Lars and Thomas, and a sister, Henriette. She met Ludwig von Lahnstein on the way to an open air festival when she was 16.
Family tree
Edit
Charlie Schneider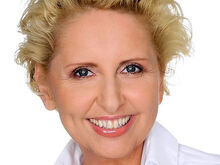 Dr. Gabriele Metzger
1 (02.01.1995) - present
Ad blocker interference detected!
Wikia is a free-to-use site that makes money from advertising. We have a modified experience for viewers using ad blockers

Wikia is not accessible if you've made further modifications. Remove the custom ad blocker rule(s) and the page will load as expected.